About Us
John Kirk & Trish Miller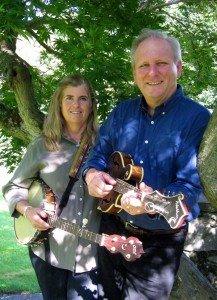 Fiddle tunes, folksongs and fancy footwork will be featured from this acoustic duet – John Kirk is the primary vocalist and instrumental wizard on fiddle mandolin & more, Trish Miller plays banjo, guitar and provides fancy footwork with percussive dance steps. Together, this married couple has been working and teaching in upstate New York for over three decades. They present traditional tunes and witty songs with unique arrangements and warm clear vocals.
Old time music is the basis for their repertoire, but they also like to mix in some originals, Celtic, early country songs, humorous selections and Appalachian clog dancing. Many songs and tunes are rooted in the local lore of the northeast woodlands. Their story-telling songs and poetic pieces make their shows fine entertainment for all ages.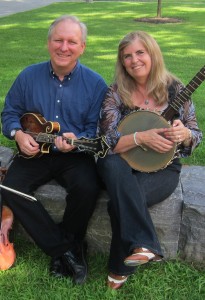 In 2022 John was inducted into the North American (& NY) Fiddler's Hall of Fame. The duet has twice been nominated for Eddie Awards in New York's Capitol district. Both of them are music instructors at Skidmore College, and John is part of the music faculty at Bennington College as well. They have been given numerous grants for concerts and teaching including their selection by the US State Department to various cities in Eastern Europe. As teaching artists, John & Trish have conducted school programs and residencies in music & dance heritage since the 1990's. For many years they have taught at summer music camps, museums, libraries, coffeehouses and more. From Carnegie Hall to their local Flurry Festival, John & Trish entertain and they work to carry on lively traditional tunes & dances.
Please visit our Tip Jar