Concerts & Dances
(or)
Both in one Evening
Concerts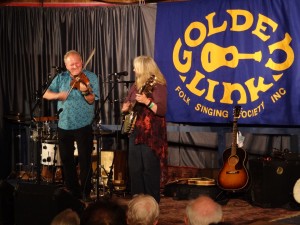 Lively Fiddletunes, Folksongs and Fancy Footwork are featured in a concert with John Kirk & Trish Miller.  Many of their music selections are rooted in the local lore of the Adirondacks and northeast woodlands.  This couple is from upstate New York near Saratoga Springs. The U.S. State Department and Jazz at Lincoln Center selected Mountain Quickstep (John, Trish, Sara Milonovich & Greg Anderson) for the 2011-12 season of The Rhythm Road: American Music Abroad. As music ambassadors, the quartet traveled to Eastern Europe and Turkey.
John and Trish entertain with a diverse repertoire of original and traditional music.  Their shows appeal to audiences of all ages with quick-pickin' tunes, sentimental songs, chorus participation and percussive clog dancing. Leading the way are John's fiddle selections from Americana, Canadian and Celtic styles.  John's warm tenor voice is clear and engaging.  Both artists take turns exchanging guitar, banjo, mandolin and syncopated rhythm steps as part of their shows.  The variety of songs can be humorous, old fashioned, storytelling, original, popular and poetic. Together they entertain for concerts, dances, schools and special occasions.
Dances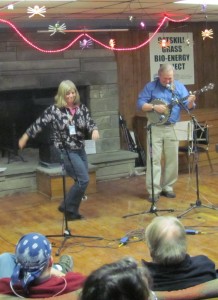 Dances include a variety of squares, circles, and mixers, live music and instruction, along with the excitement of live music featuring fiddle, guitar and banjo. Participation is the key to making an especially energetic and fun evening.  All dances will be taught and beginners as well as experienced dancers are welcome. No partner, costume or previous experience is necessary. We do advise that you wear comfortable shoes, and light clothing in layers, because dancers will be moving and getting warm. Experienced dancers may learn a new dance and non-dancers are welcome to come give it a try or to socialize, listen to the lively music and maybe have some refreshments!!