"Ducks on the Pond" ~ Liner Notes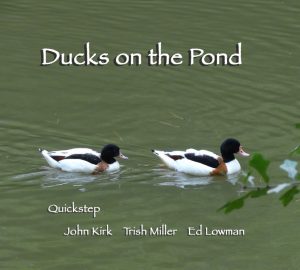 1   Ducks on the Pond ~ Traditional Appalachian ~ Learned from Alan Jabbour, Sandy Bradley, Tommy Thompson recording called "Sandy's Fancy" (Flying Fish ‎– FF 260). They call it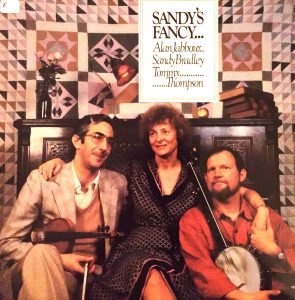 'Ducks in the Pond" – Oops – It's probably from West Virginia Fiddler, Henry Reed. Anyhow, we love the tune and have played and taught it for years.


2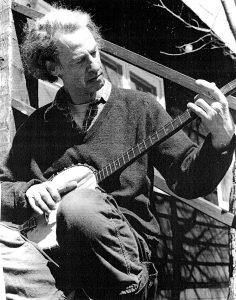 George Booker ~ Traditional Appalachian ~ Learned from Allan Block. George Wilson and I played this for Allan in the summer of 2014 towards the end of Allan's life. He gave me the 'ok' signal with his hand and I figured I (John here) had finally 'arrived' as a fiddler.
3   Bury Me Not on the Lone Prairie ~ Traditional Cowboy/Western ~ Learned from Miss Johnson, John's 6th grade general music teacher, also from Horsense – John Nielson & Justin Bishop –  and The Hurricane Ridge Runners – Mark Graham, Jerry Gallaher, & Paul Kotapish. A sad song that runs deep and evokes those 180° skies & 360° views, and feeling alone and small in the grandeur of the prairies.
4   Cowboy Waltz ~ Traditional Appalachian ~ Learned from a Skip Gorman cassette, attributed to Henry Reed. We have been playing this for dances a long time.
5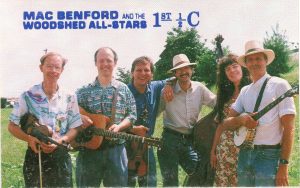 Railroad through the Rockies ~ Traditional Kentucky ~ Learned from Pete Sutherland and the Woodshed All-Stars. John learned this while a member of the 'All-Stars'. Pete got it from Bruce Green. Bruce plays the second chord (and melody) as an A major – seems to have more intrigue with the A minor.
6   Milwaukee Blues ~ Tradi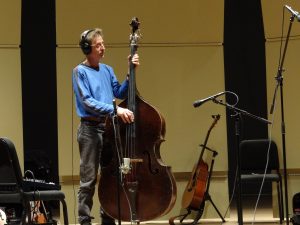 tional Appalachian ~ Learned from Allan Block. Ed holds forth on this in the best way!

7   Rosy Cheeks ~ Traditional Cajun ~ Learned from Ed. from tunearch.org/ "Jolies Joues Roses (Pretty Rosy Cheeks). A related song is Dewey Balfa's "Cheres Joues Roses." The song was recorded by Austin Pitre in the 1970's, though Raymond Francois (1990) believes the tune is older."
8   Lake Arthur Stomp ~ Traditional Cajun ~ Learned from Ed. from tunearch.org/ "Credit for composition of this tune, an instrumental, is claimed by Varise Connor who said he first started playing it in 1925, though he said he had heard a man play a tune "somewhat like that" previous–"but it sure wasn't like the way I played it." Also called "Bosco Stomp". A crooked little wonder!
9   Squirrel Hunters ~ Traditional Appalachian ~ Learned from John Hartford & Ed. This was the first tune we recorded for this project – Ed & John holding forth with fraternal twin fiddles.

10  Red Rockin' Chair ~ Traditional Appalachian ~ Learned from Harold Hausenfluck, Richmond Virginia – Trish's banjo & old time music teacher. A favorite of Trish's banjo students!

11  Rivers of the Adirondacks ~ Traditional Texas ~ First heard this song from Bill Staines and we once sang & played an arrangement of it with the Texas State University Choir with Jerry & Cathy Supple. Here we changed the names to Adirondack & NY state rivers, the St. Regis River being one close to our hearts.

12  Snowdrops ~ Traditional Appalachian ~ Learned from Allan Block. What a lovely little tune!

13  Down the Road ~ Flatt & Scruggs ~ We love those early bluegrass recordings! Since we spend alot of time on the road, we're always needing to "get going!", rolling down the road it's hard to stop!

14  June Apple ~ Traditional Appalachian ~ Can't remember where we learned this! A classic though, and Ed fiddles the heck out of it …

15  Devil's Nine Questions ~ Traditional Appalachian ~ Learned from Allan Block. John first heard Allan sing this on a tour with Allan & George Wilson. "We played in Fredonia, NY, Pittsburgh, PA, Washington, PA, Beckley, WV, & Berkeley Springs, WV – I didn't play much fiddle then, mostly guitar, banjo and a little mandolin. Allan's singing of Child Ballad #1 haunts me still." (John)

16  Walkin' In My Sleep ~ Traditional Appalachian ~ Learned from Harold Hausenfluck and the Dixie Bee Liners. One of Trish's favorites and now one of the band's as well.

17  Elk River Blues ~ Ernie Carpenter ~ Learned from Lorraine & Bennett Hammond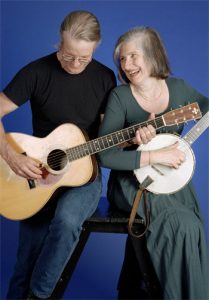 –>
live and in person, and it's on their wonderful recording called, "Jingalo Gypsy". from tunearch.org: "Composed by Braxton County, West Virginia, old-time fiddler Ernie Carpenter (1909-1997). According to the booklet accompanying Carpenter's LP, the story behind the tune is one of a difficult adjustment to a forced change in Ernie's life. He had worked most of his life for the Pittsburgh Plate Glass Company in Clarksburg, prior to retiring in 1972 to his home in Braxton County, West Virginia. He was a regular visitor during his working years to his homeplace on the Elk River, and was witness to the planning and construction of the Sutton Dam by the U.S. Army Corps of Engineers on the river during the 1950's and 1960's. Unfortunately, this resulted in the flooding of his boyhood home and the surrounding area, despite the efforts of himself and neighbors to forestall the project through a lobbyist. He refused the government's initial offer for his land (they didn't offer him anything for his house), and took the case to court. He was able to gain a marked increase in the money he eventually was paid through this process, although had to pay legal fees out of his pocket. He stayed in his Elk River homestead whil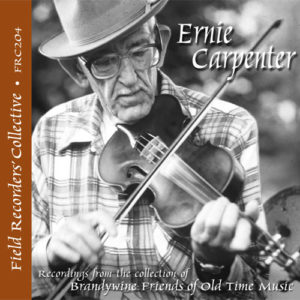 e the dam was being constructed, even though most of his neighbors had already left. Workmen blocked the roads in and out of the area, but Carpenter found alternate routes until they too were closed off. "I was the last person out of there," he said," I went ahead then and tore the old place town and brought it up here. Part of its in this house." Of the tune, he remarked: "I was sittin' here one day, an' I had the blues. I reckon as bad as anybody could, thinkin' about my old homeplace up on the Elk River. I started sawin' on the fiddle an' that's what I came up with."
18  Sugar Hill ~ Traditional Appalachian ~ Trish learned this from Harold Hausenfluck and after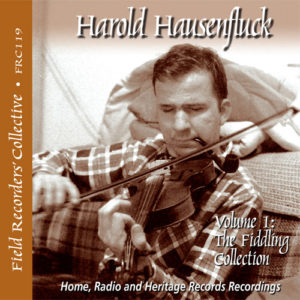 hearing it played byEnoch Rutherford at the Galax Fiddlers Convention. Many bands performed it there and Harold showed Trish "how it really goes …".  John & Ed heard this at various tune sessions & dances over the years. We often tell young students up here in the northeast that it's not about maple sugar.
19  Ducks on the Pond (Quintet) ~ Traditional Appalachian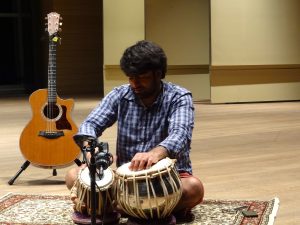 ~ (see #1) This version came about when Devesh Chandra suggested we get together and record something. He is an amazing tabla player and the incredible lineage of teachers and masters he has learned from would boggle your mind! Also joining us is the remarkable, Katie Martucci. She is a recent graduate of The New England Conservatory of Music, but while she was still a student at Skidmore College, she took fiddle lessons form John and so we invited her to join us on this session. At Trish's suggestion, Katie sang this melody as if it was an Indian Raag. This arrangement is highlighted by a high energy clogging/tabla duet!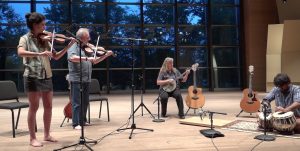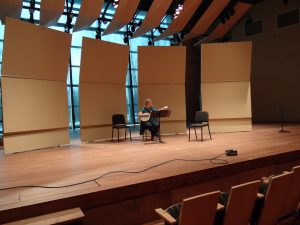 With very special thanks to:
Skidmore College Music Department – especially Shelly Curran & Shawn DuBois
Mac Benford, Pete Sutherland, Katie Martucci, Devesh Chandra
Dedicated to:
Our many, inspiring teachers ~ Allan Block, George Wilson, Harold Hausenfluck, and Rick Bunting