After a wonderful staycation this past week and a half – we played a dance, an afternoon of family music, and an evening concert all in the space of 28 hours!
The Dance on Friday night started with a one set concert and then we danced for a couple of hours ~ the event was part of a series created by Paul Rosenberg (homespunoccasions.com) and is called "The Albany Shindig". We had a great time there!!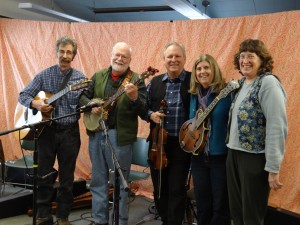 Then, Saturday afternoon we played at the Rogers Environmental Education Center in Sherburne, NY with Rick Bunting – We have played the Winter Living Celebration for the past 28 years! It has been a perennial gig for the Susquehanna String Band through the years and Trish has been a stalwart member of the band for this.
Saturday night ~ The Cranberry Coffeehouse ~ We consider this our hometown gig, as it was the first place we played together in 1985. Chris Koldewey is our host and great friend! Ably assisted by a host of volunteers led by Lee & Julian Shepherd … A unique feature of the evening is the "middle set", when 4-5 local artists play and sing – We LOVE this concert series!!
Now for a week at home to schedule our teaching days, plan our upcoming school residencies & concerts, and keep warm & fight back the Big Chill that's-a-comin'!
Stay Happy & Healthy ~